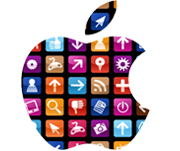 The iPhone app market is extremely profitable, but in order to be victorious, you should have the right application, the proper functionality, the proper rollout and the accurate support. That's accurately what you will find with Verus Solutions. We have launched some of the most victorious iPhone apps yet to hit the App Store. We also worked with a few of the major names in the business, as well as serving to get unknowns and construct their victory. When it comes to iPhone apps development, Verus Solutions is your foremost choice.

Our iPhone Application Development Process
The true measure of success for iPhone app development companies is the results they're able to achieve for clients. Our design and development process is innovative, forward thinking and capable of delivering considerable ROI in the end.
At Verus Solutions, we recognize that iPhone apps development is not only about your business, and it's not regarding our developers. It's not on the iPhone platform or the Appication Store, either. It's all about your visitors – your target viewers. In order to be winning, you have to suggest them what they desire. You need outstanding functionality packaged in a refined, seamless, bug less app that offers sensitive process and permanence.
Our design and development process starts not with a technical schematic or spreadsheet, but with a sit-down discussion with you. We go in-depth in formative what drives your business, what you expect to achieve through iPhone app development, and what users you're trying to achieve.

Our Team
One of the most important considerations when choosing an iPhone application development company is the team that will be responsible for bringing your app to life. Our team is comprised of industry experts and veterans. They know the ropes, but they're also dedicated to providing the best possible operability, stability and functionality in a native app. They're obsessed with technology, but equally obsessed with providing the best customer experience and support possible.
An iPhone App Development Company Dedicated to users
The whole thing we perform as an iPhone application developer is devoted to providing our customers the finest promising ROI and positioning on the web market. We construct a big team in order to stay every feature of our process in dwelling, and you will discover that we are also committed to trust you in the loop each step of the method. We suggest full updates throughout the iPad apps development procedure, but we also suggest full analysis and strategizing for your apps rollout and continuous achievement. We are with you each step of the technique, unlike lots of other iPhone application development companies.
---