Classifieds Website Development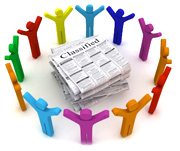 Classified advertising is a one form of promotion which is mainly in the press, online and other periodical, e.g. free paper ads. Classified advertising differs from standard promotion or a business model in to it allows private persons to solicit sales for products and services.

Verus Solutions are defining a new era in the world of advertising by enabling users to perform custom searches based on cost, content, pictures and various other criteria that provide highly filtered and user specific search results.
By checking the number of sales you make from that page, you can measure the success rate of Classified Website.

KOKA Tech Classifed Scripts are very useful to sell, buy any product, property and website online in India you can search any product or advertise on related products.

This Script has used for any propose there are many categories in which you can find according to you post without or with register.For buy a classifed website in India most of them choosing us.
---